Description
Zhiyun Weebill 2 is the upgraded version of the compact yet powerful DSLR gimbal stabilizer Weebill S. Boasting dynamic stabilization at the chip & algorithm level, 2.88″ colorful touch display for instant settings and real-time video monitoring (when used with the Video Transmission Transmitter AI), and inheritance of the classic underslung design for effort-saving low angle shooting. The user interface has been ergonomically redesigned for intuitive operation.
Key Features
Large camera support: BMPCC 4K, 6K
See and set in the bigger 2.88″ colorful touch display
Classic underslung handle grip for effort-saving carry & low-angle shooting
Infineon two-filter interruption vector-splitting sensor integrated to provide dynamic stabilization like never before
Vertical shooting without reinstalling the camera
One-press object tracking using the touch display & Video Transmission Transmitter AI
PD fast charging
Compatible Cameras
| | |
| --- | --- |
| Sony | A9 II, A9, A7R4, A7R3, A7M3, A7S3, A7R2, A7M2, A7S2, Α7C, A6600, A6500, A6400, A6300, A6100 |
| Canon | 5D3, 5D4, 5DS, 5DS R, 6D, 6D2, 80D, 90D, M50, EOS R5, EOS M6 Mark 2, EOS R6, EOS R, EOS RP |
| Nikon | D850, D780, Z5, Z6, Z7, Z6 II, Z7 II, Z50 |
| Panasonic | G9, GH5, GH5S, S1, S1H, S5, DC-BGH1 |
| FUJIFILM | X-T3, X-T4, X-T30 |
| Z CAM | ZCAM E2 |
| Blackmagic | BMPCC 4K, BMPCC 6K |
| Sigma | SIGMA fp |
| Olympus | OM-D E-M1 Mark II |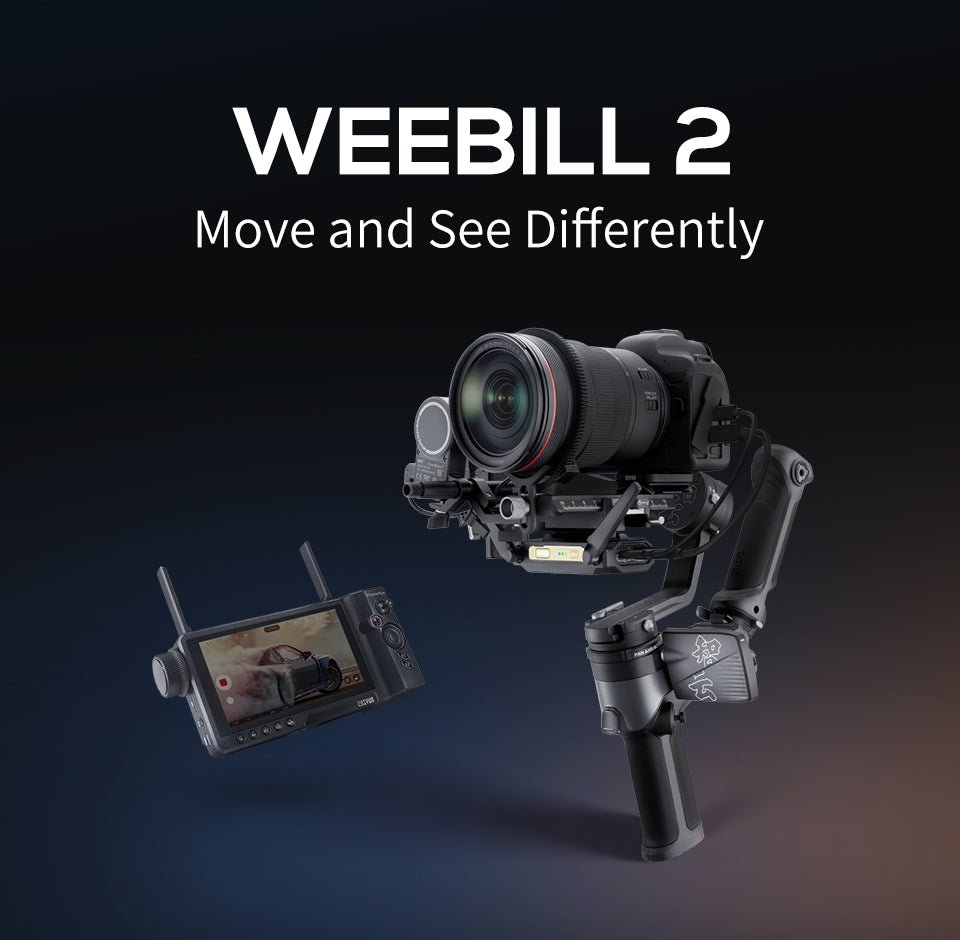 Powerful Chip with Dynamic Stabilization: Two-Filter Interruption Vector-Splitting Sensor
This extraordinary stabilizing perfomance is what you've never seen before thanks to the Infineon two-filter interruption vector-splitting sensor. It analyzes the complex interruptions and precisely compensates any micro-jittery, making Weebill 2 so smooth and highly responsive.
Unique Robust Build: Artistic and Well-Crafted
Weebill 2 combines well-crafted lines with artistic structure to bring the new stabilizer into life. A creative rotatable flip-out touch screen to make every feature and operation easier.
* Note the TransMount Weebill 2 Sling Grip Handle is not included in the Standard kit.
Classic Design with Effort-Saving Sling Grip
With the classic structure and sling grip design in Weebill series, An effort-saving sling mode is within reach with no extensions added and structure altering. Easy to switch modes and works great when shooting low angles.
2.88″ Full-Color Flip-out Touch Screen
Integrated 2.88″ touch screen with the retractable & flip-out design. Parameter adjustment and monitoring in all shooting angles with just a few taps.Brand new UI design, tap to monitor and adjust the parameters of stabilizer and camera. Use with TransMount Video Transmission Transmitter to get high-quality image transmission and try new ways in shooting.
A bigger screen for a high-quality wide vision and easier control. One press away to activate SmartFollow.
* This feature needs to be used with TransMount Video Transmission Transmitter (AI).
Focus Control Wheel
Focus control wheel supports adjustments on roll axis, aperture, ISO, electronic / mechanical follow focus and zoom (when used with follow focus motor).
PD fast charging supported
Weebill 2 supports fast charging. Charging time can be minimized to 1.6 hours and the maximum runtime can reach 9 hours. The stabilizer can still work while charging.
* Supports PD Fast Charge policy. PD could reach a theoretical peak of 24W 15V/1.6A. (All the data were collected from internal experiments of Zhiyun lab in standard environments. Please refer to actual use of this product.)
TransMount Video Transmission Transmitter (AI): Advanced Transmission and Control
Dedicated to Weebill 2, TransMount Video Transmission Transmitter (AI) supports up to 1080P 60FPS high-quality output, the time delay can be down to 60ms while the transmission distance can be up to 100m.
Teamwork Monitoring
Available together with iPad and smartphone. Newly added screen monitoring. Videographer, director and focus motor operator can monitor the footage at the same time and engage in a more efficient teamwork.
* TransMount Video Transmission Transmitter (AI) is required for image transmission via Weebill 2 screen.
ZHIYUN MasterEye Visual Controller VC100
1920×1080FHD 5.5 inches touch screen with 400 PPI and 1000nit extra brightness. 1200:1 high contrast offers high quality footage. An integration of monitor, wireless image transmission and remote control. Easy to carry with high performance. Skin-friendly silicone handle with ergonomic and all-in-one modular design. Highly efficient without complicated cable-plugging.
Accurate Focus/Zoom Control and Motion Sensor Control
Paired with focus/zoom control motor to adjust focus or focal length. Supports customized adjustment of focus control sensitivity in three levels: Low/Medium/High.
* Requires TransMount Focus/Zoom Control Motor and TransMount Video Transmission Transmitter (AI).Try motion sensor control for more convenient high-level filming. Touch screen for switching stabilizer modes and reposition.
* Requires TransMount Image Transmission Transmitter