Insta360 Flow Smartphone Gimbal Stabilizer
₱8,499.00 – ₱10,089.00
Description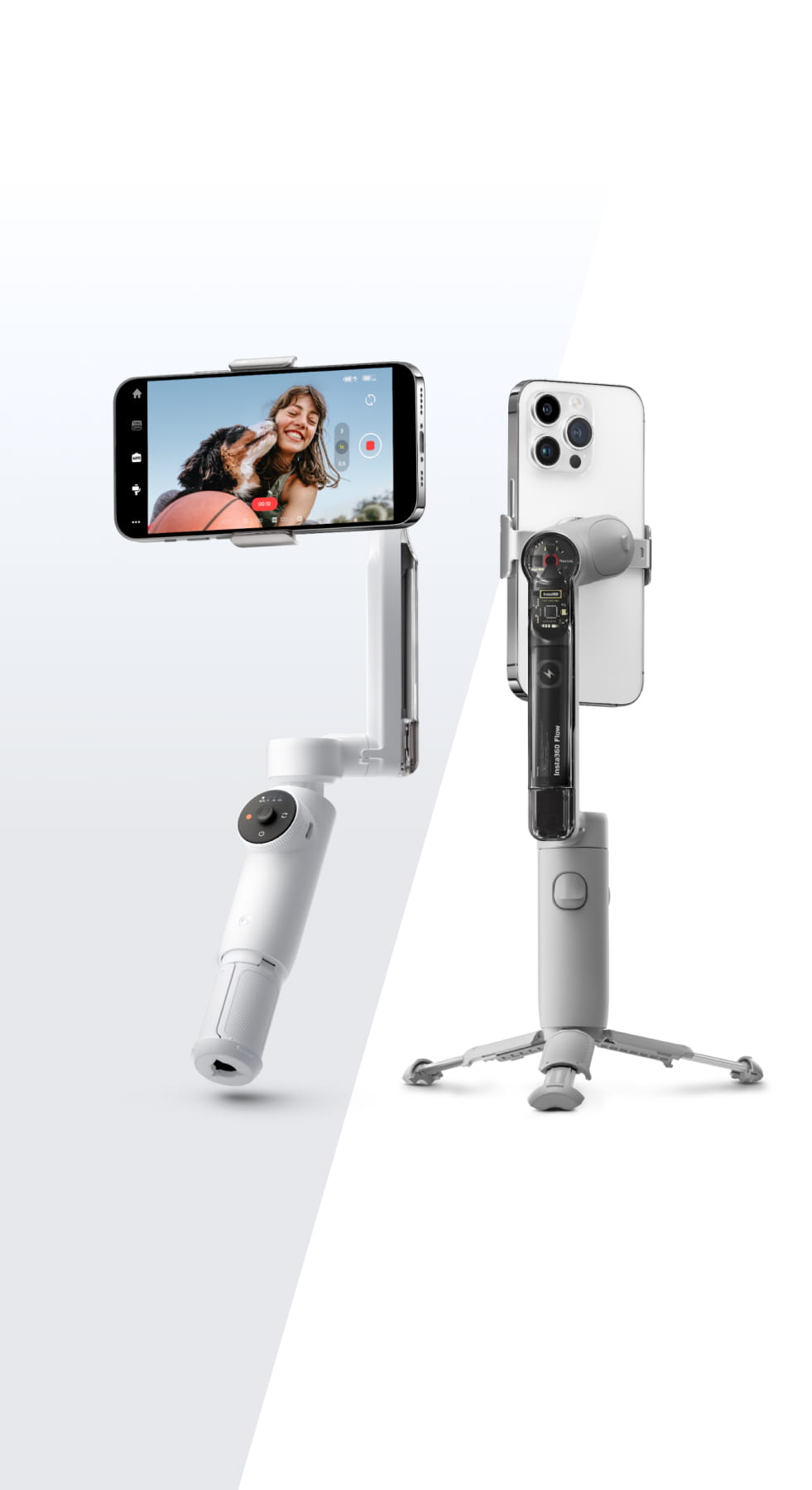 Insta360 Flow is an AI-powered smartphone stabilizer for easy on-the-go shooting and editing. The only smartphone gimbal with both a built-in selfie stick and tripod, 3-axis gimbal stabilization and AI tracking, Flow elevates your phone into a portable content creation tool.
1-Step Rapid Deploy
Elevate your smartphone into a content creation tool with Insta360 Flow, the AI-powered stabilizer. Just unfold it once and go—no need to untwist or even press the power button.
Foldable and Portable
Just take your phone and Flow on the go. No other gear needed. Flow folds up compactly to easily fit into your bag, so you can capture life's best moments on the fly.
3-Axis Stabilization
Your phone footage has never looked so smooth. Flow's 3-axis gimbal stabilization cancels out the shakes in your footage, from dawn to dusk.
Deep Track 3.0
Next-Gen Subject Tracking
Years of research and development has brought Deep Track 3.0 to new heights, keeping subjects in frame and in focus with unmatched tracking accuracy.
Quick Activation
There are two ways to activate Deep Track 3.0:
Single click of the trigger button: Flow will automatically detect and track the main subject, e.g. human head, pet or other main subject in the frame. No need to touch the phone screen.
Drag a tracking box on the phone screen in the Insta360 app
Slow Motion Tracking
Level up your slow motion shots. Deep Track 3.0 is even supported for high frame rate videos, e.g. 4K60fps, 1080p240fps. Compatibility varies by phone model.
Zoom Tracking
Get more cinematic shots with your telephoto lens. Upon zooming in, Flow not only can track your subject, it will also automatically adjust gimbal settings for more stable shots.
Video Call Tracking
Even calls are now simpler! Flow will make sure you're always in frame when you're chatting with friends or family.
Person Re-Identification
Once Deep Track 3.0 is enabled, Flow will remember the target person throughout the recording and continue tracking them, even re-identifying them when they are blocked by another object.
Tracking from All Angles
Flow can recognize a subject from all angles and keep tracking it, even if the subject's shape changes as you or it moves.
Always-On Tracking
With Flow, you can enable "Always-on Tracking" to ensure it continues identifying the subject until it gets back in the frame, no matter how much time passes. Competitor products stop tracking after losing the subject for 3s.
Better Framing
You're no longer limited to locking the subject dead center during tracking. With Deep Track 3.0 you can manually set to any framing you desire.
Zoom Tracking Recovery
In case your subject moves out of frame during zoomed-in shots, Flow will zoom out to the wide angle lens if you're using an iPhone (or default lens if you're using Android phones) and look for the subject for 2 seconds. If the subject is found, Flow will zoom into the subject as before; if subject is lost, tracking will be stopped to preserve power.
Movement Tracking Recovery
Flow will follow the direction the subject moves in case the subject moves out of the frame.
Shooting Mode
Auto: A unique, beginner-friendly mode that automatically adjusts gimbal settings based on the situation. Guaranteed shake-free shots!
Follow (F): Follow mode responds closely to your movements for more precise control over the gimbal.
Pan Follow (PF): Perfect for shooting horizontally or around a subject, Pan Follow opens up a bunch of creative shooting options.
FPV: Take full control and simulate FPV drone-like movements, backed up by gimbal stabilization.
Built-In Selfie Stick
Whip out the selfie stick for easier, more flexible shooting. Get your whole crew in the shot or switch up the view in your clips with high and low shooting angles.
Get more friends in the frame and better angles.
Unobstructed view in crowds (e.g. concert, events)
Creative shooting angles (e.g. low angle shots)
Built-In Tripod
Whenever, wherever, set Flow down using the built-in tripod and capture the moment. No additional accessories necessary!
Smartwheel
The SmartWheel boasts a minimalist design and gives you quick, easy access to a host of useful functions, from shooting controls, to video replay, and more.
Creative Effects
Create cinematic effects with dynamic camera movements and speed controls in the Insta360 app.
TimeShift
Motion Timelapse
Barrel Roll
Dolly Zoom
Wide Screen Mode
Panorama
Hoop Mode
ShotGenie
Not sure how to get the best shot? Shot Genie has got you covered. Tap the icon in the app or give a voice command and the AI will recommend shooting techniques for you tailored to the scene.
FlashCut
Master your shots with AI-powered editing tools in the Insta360 app. FlashCut tells a story with your clips, editing together the highlights on beat to music.
Specifications
Weight
391g
Dimensions
Folded: 162.08 x 79.59 x 36 mm
Unfolded: 269.39 x 73.57 x 69.94 mm
Compatible Phone Stick
Thickness: 6.9-10mm
Width: 64-84 mm
Weight Max: 300g
Built-In Selfie Stick Length
215 mm
Run Time
12 hours
Mechanical Range
Pan: -230° to 100°
Roll: -150° to 180°
Tilt: -100°to 82
Max Control Speed
120°/s
Battery Capacity
2900mAh
Bluetooth
BLE 5.0
Inside the Box
Insta360 Flow Standalone
Insta360 Flow
Magnetic Phone Clamp
Insta360 Flow Grip Cover
Protective Pouch
Type-C to A Charge Cable
Additional information
| | |
| --- | --- |
| Color | White, Gray, White+Spotlight, Grey+Spotlight |